Call Us Today !
843-873-8030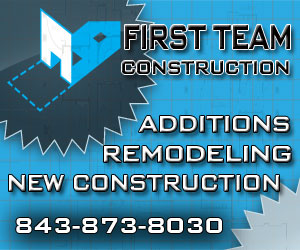 Yard Drainage Charleston, SC
If you have yard drainage Issues, we can repair or install french drains,storm water drainage, trench drains, ditches, swails, and numerous other drainage options you may need for your particular project. We're Charleston, SC's best choice for drainage repair & installation service providers.
First Team provides yard drainage services in Charleston, Summerville, Mt. Pleasant and the surrounding areas.
Trench Drain
A trench drain will help move water away from your house and yard. This trench drainage system, also known as a French drain, intercepts water before it reaches your house. The drain acts like an underground Gutter keeping your basement dry. These may or may not be corrugated pipe with holes depending upon where the water table is and if the water needs to be removed from the property or can be dispersed on the property.
French Drain
A French drain is an in-ground trench or pit that captures groundwater. If you build a trench French drain, it can collect groundwater by using a drain grate and Drain Box and then diverting it to a low spot on the land. The best French drain design is one that allows water to freely flow from the trench back out onto the surface of the land. Some people have low lying lands in here in South Carolina so its not always so easy to divert that water thinking it will disperse if the ground water table is already at the height of the property.
Storm Water Drainage
Downspouts and gutters will collect and send out hundreds of gallons of water during a storm. Splash blocks only serve as a way to absorb and spread the energy of the falling water. Drain lines of durable 4 inch diameter plastic can capture and move the water to a better place on or off your lot.
Positive Yard Drainage Keeps a House Dry
To eliminate standing water problems around your house your foundation must be waterproofed. Foundation drainage codes require a natural slope away from the house for water flow. Drain pipes, downspouts or a sump pump also can all pipe water away from the house.