Call Us Today !
843-873-8030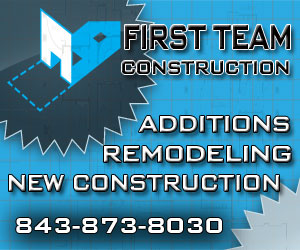 Kitchen Remodeling Charleston, SC
More than ever, the kitchen is the central headquarters for the family. Far from its 'utilitarian' roots, it is often the showplace of the home, yet now it is required to function well for a wider variety of tasks than ever before. A well-equipped, beautifully dressed kitchen provides both a sense of well-being and a favorite place in the home
Choosing the right kitchen remodeling company is an important decision. We offer reliable products, service, installation and peace of mind – so you can give your home a custom-designed look.
Whether you're interested in kitchen cabinet re-facing or an entire kitchen remodel, we are here to help with your endeavor.
First Team offers professional kitchen remodeling services in Charleston, Summerville, Mt. Pleasant and the surrounding areas.
Cabinets
We have a large variety of popular door and drawer styles, with coordinating hardware and a large selection of kitchen cabinet colors and wood grains to make your kitchen into a work of art.Some of the products we can offer for your cabinet needs include Custom Built cabinetry, Kraftmaid, American Wood mark, Shannendoah,  Merrilat, Decorative Specialties.
Countertops
Our Countertop selection includes: granite, Quarts surfaces to include Zodiac and Silestone, Butcher Blocks and Solid Surfaces by Wilsonart, Formica, Samsung, Dovae, and Corian or laminates by Wilsonart®, Nevamar, or Formica.
A few key items to consider while thinking about your next Kitchen Remodeling project:
No one wants a brand-new kitchen with appliance doors that bump into cabinet doors, or an island so close to the wall that it can't be used for dining. Good space planning will help you develop the best layout for your kitchen, so take the time to read this condensed version of the NKBA guidelines.
Designed to maximize safety and functionality in home kitchens, the guidelines represent ideal layout solutions to kitchen concerns from storage space to door clearance. Don't fret if budget limitations and the constraints of an existing kitchen require some compromises and tradeoffs: The only rules you must follow are building codes.
NKBA Guidelines
Thirty-One Ways to a Better Kitchen
Door/Entry
A doorway should be at least 32 inches wide.
Door Interference
No entry door should interfere with appliances, nor should appliance doors interfere with one another.
Distance Between Work Centers
In a kitchen with three work centers*, the sum of the distances between them should total no more than 26 feet. No leg of the work triangle should measure less than 4 feet nor more than 9 feet. When the kitchen includes additional work centers, each additional distance should measure no less than 4 feet nor more than 9 feet. No work triangle leg should intersect an island or peninsula by more than 12 inches.
* The distances between the three primary work centers (cooking, cleanup/prep and refrigeration) form a work triangle.
Separating Work Centers
A full-height, full-depth, tall obstacle [i.e. a pantry cabinet or refrigerator] should not separate two primary work centers.
Work Triangle Traffic
No major traffic patterns should cross through the work triangle.
Work Aisle
The width of a work aisle should be at least 42 inches for one cook and at least 48 inches for multiple cooks.
Walkway
The width of a walkway should be at least 36 inches.
Traffic Clearance at Seating
In a seating area where no traffic passes behind a seated diner, allow 32 inches of clearance from the counter/table edge to any wall or other obstruction behind the seating area. If traffic passes behind the seated diner, allow at least 36 inches to edge past or at least 44 inches to walk past.
Seating Clearance
Kitchen seating areas should incorporate at least the following clearances: At 30-inch-high tables/counters, allow a 24-inch-wide by 18-inch-deep knee space for each seated diner. At 36-inch-high counters, allow a 24-inch-wide by 15-inch-deep knee space. At 42-inch-high counters, allow a 24-inch-wide by 12-inch-deep knee space.
Cleanup/Prep Sink Placement
If a kitchen has only one sink, locate it adjacent to or across from the cooking surface and refrigerator.
Cleanup/Prep Sink Landing Area
Include at least a 24-inch-wide landing area to one side of the sink and at least an18-inch-wide landing area on the other side.
Preparation/Work Area
Include a section of continuous countertop at least 36 inches wide and 24 inches deep immediately next to a sink.
Dishwasher Placement
Locate nearest edge of the primary dishwasher within 36 inches of the nearest edge of a sink. Provide at least 21 inches of standing space between the edge of the dishwasher and countertop frontage, appliances and/or cabinets placed at a right angle to the dishwasher.
Waste Receptacles
Include at least two waste receptacles. Locate one near the sink(s) and a second for recycling in the kitchen or nearby.
Auxiliary Sink
At least 3 inches of countertop frontage should be provided on one side of the auxiliary sink and 18 inches on the other side.
Refrigerator Landing Area
Include at least 15 inches of landing area on the handle side of the refrigerator or 15 inches of landing area on either side of a side-by-side refrigerator or 15 inches of landing area no more than 48 inches across from the front of the refrigerator or 15 inches of landing area above or adjacent to any undercounter refrigeration appliance.
Cooking Surface Landing Area
Include a minimum of 12 inches of landing area on one side of a cooking surface and 15 inches on the other side. In an island or peninsula, the countertop should also extended a minimum of 9 inches behind the cooking surface.
Cooking Surface Clearance
Allow 24 inches of clearance between the cooking surface and a protected noncombustible surface [ex: a range hood] above it. At least 30 inches of clearance is required between the cooking surface and an unprotected/combustible surface [ex: cabinetry] above it. If a microwave hood is used, then the manufacturer's specifications should be followed.
Cooking Surface Ventilation
Provide a correctly sized, ducted ventilation system for all cooking surface appliances; the recommended minimum is 150 CFM.
Cooking Surface Safety
Do not locate the cooking surface under an operable window. Window treatments above the cooking surface should not use flammable materials. A fire extinguisher should be located near the exit of the kitchen away from cooking equipment.
Microwave Oven Placement
The ideal location for the bottom of the microwave is 3 inches below the principle user's shoulder but no more than 54 inches above the floor. If the microwave is below the countertop the bottom must be at least 15 inches off the finished floor.
Microwave Landing Area
Provide at least a 15-inch landing area above, below or adjacent to the handle side of a microwave.
Oven Landing Area
Include at least a 15-inch landing area next to or above the oven. At least a 15-inch landing area not more than 48 inches across from the oven is acceptable if the appliance does not open into a walkway.
Combining Landing Areas
If two landing areas are adjacent, determine a new minimum by taking the longer of the two landing area requirements and adding 12 inches.
Countertop Space
A total of 158 inches of countertop frontage, 24 inches deep, with at least 15 inches of clearance above, is needed to accommodate all uses.
Countertop Edges
Specify clipped or round corners rather than sharp edges.
Storage
The total shelf/drawer frontage is: 1,400 inches for a small kitchen (150 square feet or less); 1,700 inches for a medium kitchen (151 to 350 square feet); and 2,000 inches for a large kitchen (351 square feet or more).
The recommended distribution for the shelf/drawer frontage is:
| | Small | Medium | Large |
| --- | --- | --- | --- |
| Wall | 300 in. | 360 in. | 360 in. |
| Base | 520 in. | 615 in. | 660 in. |
| Drawer | 360 in. | 400 in. | 525 in. |
| Pantry | 180 in. | 230 in. | 310 in. |
| Misc. | 40 in. | 95 in. | 145 in. |
Storage at Cleanup/Prep Sink
Of the total recommended shelf/drawer frontage, the following should be located within 72 inches of the centerline of the main cleanup/prep sink: at least 400 inches for a small kitchen; at least 480 inches for a medium kitchen; and at least 560 inches for a large kitchen.
Corner Cabinet Storage
 At least one corner cabinet should include a functional storage device. This does not apply if there are no corner cabinets.
Electrical Receptacles
GFCI (ground fault circuit interrupter) protection is required on all receptacles servicing countertop surfaces.
Lighting
Every work surface should be well-illuminated by appropriate task lighting. Some clients experience common problems dealing with the wrong contractor so be sure to read the items below so that you can avoid the same problems.
Your kitchen is an important room in your home. Be sure to consider the way your kitchen's proposed look will go with the rest of your home. A modern kitchen in a  farmhouse will usually stick out and not give you a real happy outcome in the long run. Keep design integrity in mind.
Remember that selecting beautiful cabinets is only half the battle—and, in a lot of ways, the less important half. Make sure you have enough storage for all those plates and pots—and the accessories like tray dividers and pull-out shelves that will make them a snap to find.
Use your personality in the pulls, colorful countertop appliances and unique accessories, try to select a cabinet that you and your family can live with for the next 10 or 20 years. And if resale is in your future, be sure to follow this option closely.
Lowered countertop seating may be the perfect play space for your kids…but in 10 years that petite spot will be useless. Design with the future in mind, and not just that of your kids. Ergonomic choices like raised dishwashers will keep your kitchen functional as you grow older.
This isn't the funnest part of the project, but invest some time and money in a solid lighting plan . It'll keep your kitchen safe, set the appropriate mood and keep shadows from turning your honey-colored cabinets to a stale shade of brown.
Go ahead, change your mind in the middle of the process—just be ready to handle the additional charges and delays that making the pantry slightly larger . And if your changes means other carefully measured things (like countertops or appliance panels) are altered, that cost goes way up because items have to be reordered.
Remodeling is about replacing that countertop and sink—but it's also the best (and only time) when you can truly play with the room's layout. If you're tired of always walking across your kitchen to get to the refrigerator then move it!
Going at your old kitchen with a sledgehammer may sound like fun, but your space may not need to be entirely gutted. Do a thorough inventory to decide if anything—from your appliances to your cabinets frames—can be saved…saving you money in turn.