Call Us Today !
843-873-8030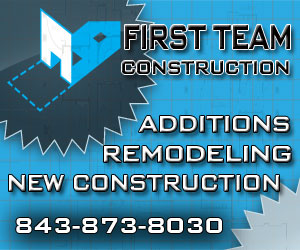 Bathroom Remodeling Charleston, SC
Statistics show that renovating a bathroom adds more value to your home than the cost of performing the renovation.  There are many bathroom products to make a terrific remodel –  relaxing steam rooms, jetted bathtubs, and environmentally friendly dual flush toilets, vessel sinks, shower panels, and more).
Bathroom remodeling starts with your vision for what bathroom style you love. Let's start with a look at your bathroom furniture. What can you do to make it more appealing? You might want to add a comfortable boudoir chair and maybe some new fluffy towels to your bathroom. And for a small investment, you could add a towel warmer that will heat your bathroom on the gloomiest day while, at the same time, warm up those fluffy new towels for when you get out of the tub.
Choosing the right bathroom remodeling company is an important decision. We offer reliable products, service, installation and peace of mind – so you can give your home a custom-designed look.
Whether you're interested in bathroom cabinet re-facing or an entire bathroom remodel, we are here to help with your endeavor.
Countertops
Our Countertop Selection Includes:
Marble
Tile
Granite
Quarts surfaces, which includes Zodiac and Silestone
Butcher Blocks
Solid Surfaces by Wilsonart, Formica, Samsung, Dovae and Corian
Laminates by Wilsonart®, Nevamar, or Formica
Bathroom Vanities
Add Style With a Custom Stone Bathroom Vanity
The synergistic blend of strength and beauty of a natural stone vanity will provide lasting endurance and timeless style. It is tough enough to withstand everyday wear and yet, it will remain as beautiful as the day it was purchased. This bathroom vanity offers the perfect touch for Victorian and later period home designs. This model was crafted using wood reclaimed from European barns, boats or bridges and is paired with a china top. Woods used for Del Mondo pieces typically range from 200-300 years old. Countertops can be limestone, marble or china. Most of the bath vanity units are chemically treated to help prevent warping in normally moist bathroom conditions. The Old Style vanities create a charming historic look with inset doors, wood knobs and wood latches. Most of them are hand made and have a unique look to perfectly match and underline your Old Style bathroom design.
Hi Tech
This MOC vanity is a one-piece bathroom vanity with frosted glass. It arrives complete with a grid strainer that has a cover, stainless steel brackets, fixing screws and plugs. We suggest the following options: stainless steel towel rail, two-angle stop valves, and a chrome brass trap. The trap is an object of beauty and really should accompany this exquisite sink.
Bath Tubs
One and Two Person Tubs
Decide if you would like a one or two-person bathtub. Two-person tubs generally take a lot more water and space.
Chroma Therapy

The new Sok bath from Kohler with chromatherapy allows an individual to be immersed in a warm, ultra-deep bath. With the touch of a button, enhance the bathing environment to include a full spectrum of dramatic color – from soothing to stimulating.
Consider adding mood lights in and around your bathtub area to create the right atmosphere.
Make sure whirlpool tub has an adequate depth for comfortable bathing.
Make sure that the bathtub you choose will fit into the available space.
Provide electrical wiring as required by State Code and as per manufacturer's recommendations.
Standard & Tile Tubs
Looking for a unique way to give your bathroom an elegant look? Tile work can turn any ordinary tub into extraordinary.
A tiled tub offers a sense of elegance that a standard tub lacks and will give your whole bathroom a distinctive look.
Clawfoot Tubs
Claw Foot tubs are an effective way to bring charm and romance into your bathroom. If you are tired of the hard lines of a boxed tub, the soft curve of a claw foot charm will bring back dreams of Victorian mansions with their wood floors.
Air Jet Tubs
If you've got your heart set on a whirlpool tub for your new master bathroom.
Air Jet
Gentler blast through many more openings
More generalized sensations can range from the delicate touch of a thousand fingers to the rushing water of a mountain stream
2 manufacturers- Ultra and Americh
Wider range in pulsations from the jets
The motor for an air-jetted tub is less noisy
You can add bath oils, bubble bath, sea salt or therapeutic herbs
Stronger blast through fewer, larger openings
Sensations can range from a gentle nudge to the thumping of a jujitsu massage.
Numerous manufacturers
Using bubble bath or oils can damage or clog the system
Hair or small objects can get caught or sucked up into the openings
Faucets
Types of Bathroom Faucets:
Single-hole and single-lever faucets integrate the spout and mixing handle or handles into one fitting. Compact and easy-to-use, they require only one faucet hole drilling. Some faucets will include an optional six-inch cover plate for existing four-inch drill installations.
Widespread faucets offer the greatest design flexibility. A mini-widespread faucet has three separate pieces in a smaller, standard four-inch drilling. A widespread faucet has a standard spread or drilling of at least eight inches.
Centerset faucets for standard four-inch drill installations mandles mounted onto a six-inch plate. These are recommended for smaller, pre-existing, pre-drilled basins.
Wall-mounted faucets for above-the-counter and freestanding basins require a longer spout for extended reach.
"There are three main reasons people purchase new faucets," according to David
A key one is new home construction. The second is when they take on a kitchen or bath remodeling project. The third is when a repair becomes necessary — usually because a faucet breaks down or just wears out.
Faucet FAQs
Q. ) Why do some faucets cost more than others?
A). Not all faucets are created equal — some are simply made better than others. Look for faucets constructed of copper, brass and other high quality materials. These faucets will usually give you superior looks as well as performance and durability.
Q). What are the key features I should look for in a faucet?
A). In the bath, style is usually the driver of choice (traditional, country, contemporary; single or two-handles), and many times the bath faucet is available with matching accessories (towel bars, paper holders, robe hooks), to create a "suite" look in the overall bath.
Q). What type of finish should I look for and how do I clean my faucet?
A). If you're choosing a faucet with a polished brass or specialty finish, look for one like Moen's LifeShine non-tarnish finish which won't pit, corrode or discolor.
With so many products on the market today claiming to offer superior cleaning power, it can get confusing to know which one is best. For cleaning faucets, avoid products that contain abrasives or harsh chemicals. They can scratch your faucet and take away some of its original beauty. In fact, the old-fashioned way may still be best — simply use warm water and a damp cloth.
Bathroom Planning Ideas
How to Avoid Shadowing in your Bathroom
Recessed lighting fixtures are very popular these days and are usually recommended by First team Construction and a number of design professionals. If you are relying on them as your sole source of illumination at your vanity you will fall in to the shadow trap.
The Shadow Trap is when you look into your mirror you will not be able to see yourself very well. This is caused because of the fact that floodlights are very focused lighting and halogen floodlights even more so, that will cause shadowing.
It is fine to use recessed floodlights in you bathroom if you want, as general room lighting, when it comes to your vanity you must use another type of light in addition to the recessed to combat the shadows.
Use a more soft focus or diffused light fixture.
Ideally the light fixtures should be mounted at eye level or just above, on either side of the mirror, shining at your face. However that may not always be possible.Mounting a diffused light fixture on the wall over the mirror will combat the sharp focus of halogen floodlight shining down on your face as well.
If it's not possible to mount fixtures on the wall, only then, I suggest not using recessed lighting at all; use only decorative ceiling mounted diffused fixtures, (flush, semi flush or cove). Remembering this is not the best type of lighting for your vanity but its much better than recessed lighting alone.
In contradiction, if you are sold on only using recessed lighting in your bathroom vanity area there is only one way to make it livable and that is by placement. The recessed fixtures must be placed very close to the mirror, center them above the faucet. Centering them over the counter will still be causing shadows.
Another good tip is to independently switch the different types of lighting fixtures this will be helpful to set the mood for the different functions in your bathroom. I like a dimmer switch at the vanity area to set the light levels for daytime-nighttime makeup applications.