Call Us Today !
843-873-8030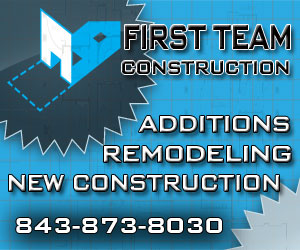 Green Home Builder Charleston, SC
First Team Construction is a green home builder that can provide you a rewarding and exciting venture in your next home build.
When building a new home, adding on a new room addition or even just a simple home remodeling project within your home, you should always consider your local environment to maximize the efficiency of every aspect of your project. There are four main areas that need to be focused on when planning your green building project. These areas include: water, energy, building materials and landscaping.
Each of these areas contain specific products and methods that can really benefit your home lifestyle and increase the value of your home. Home Remodeling and building can be very satisfying when the job is complete, however it becomes even better when you take into consideration the above green building factors mentioned above.
We build beautiful, energy efficient homes in Charleston, Summerville, Mt. Pleasant and the surrounding areas.
What is Green Building?
Green building is an approach to design and construction respects the environment and conserves resources that is available to all home owners.
7 Reasons to Go Green
Protect Your Family's Health
Why live among materials, products, and systems that have poisonous metals, minerals, and gases? These create breeding grounds for biological organisms harmful to our health. Instead, go with green products – they're healthier and safer.