Call Us Today !
843-873-8030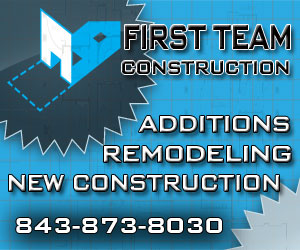 Handyman & Home Repair Services Charleston, SC
If you like to do things yourself, we are here to give you FREE advice, just visit us on Facebook and ask any handyman & home repair questions you would like. We will do our best to answer them as soon as possible for you.
If you have a repair concern or question in regards to any of the below items listed, please give us a call to discuss how we may able able to provide assistance to you.
Below is a list of project items that First Team Construction can perform on your next home remodeling, home repairs, or new construction project.
First Team is Charleston, Summerville and Mt. Pleasant's best choice for handyman & home repair services.
Audio/Visual & Computers
Additions
Air Conditioning
Architects & Engineers
Bathroom Remodeling
Brick and Stone
Cabinets
Carpentry
Carpets
Ceilings
Central Vacuum Systems
Ceramic and Porcelain Tile
Chimney Cleaning
Cleaning Services
Commercial Construction
Concrete
Construction Clean Up
Countertops
Custom Mill Work
Decks
Disability Construction Services
Disability Remodeling Services
Disaster Recovery Services
Docks
Door Locks
Doors
Drywall and Plaster
Duct Work
Electrical
Electricians
Fans
Fence
Fire Restoration
Floor Covering
Framing
Garage Additions
Garage Doors
Garbage Disposals
General Contracting
Glass and Mirrors
Granite
Green Building
Gutters
Handyman Services
Heating and Cooling Systems
Home Inspections
Home Sound Systems
HVAC
Kitchen Remodeling
Landscaping
Lighting
Mold & Asbestos Services
New Home Construction
Painting
Patios
Plumbing Leaks
Plumbing Services
Pressure Washing
Property Maintenance
Roofing
Sheds
Shutters
Siding
Skylights
Sprinklers
Tile
Trim
Tub Surrounds
Wallpaper
Water Damage Restoration
Water Drainage Problems
Windows
Wood Floors
Wood Rot