Call Us Today !
843-873-8030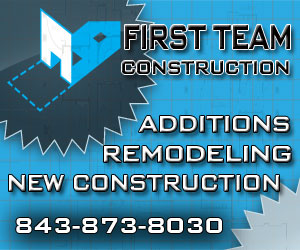 Garage Builder Charleston, SC
We build quality garages in Charleston, Summerville, Mt. Pleasant and the surrounding areas.
If you're interested in a one, two, or three-car garage, give us a call! We will initially meet with you to discuss your wants and needs in having a project done. While meeting with you, we will discuss the permitting process, the types of materials you have available, the type of foundation and building structure you will need with your location, the aesthetics of the garage build to make sure it will look great on your property, your water, electrical and hvac needs, as well as if you would like storage or a room above your garage.
Once we gather all this information in our initial meeting, we will take the data back to our office and gather the most economical and efficient process for the project to be completed, and then send a free estimate to you. Please feel free to email or call us to set up a consultation!
Charleston, Summerville & Mt. Pleasant and the surrounding area's best garage builder
Types of Garages We Build
Standard, Studio, Rooms Above, Two-Story
Carriage House Style
Lowcountry Style
Southern Living Style
Carports
Sheds
Things to Consider
What type of foundation do you need.
What size garage do you require.
What size door/s will accommodate your needs.
What type of materials to use.
Will it match your existing home.
Does your lot allow the space for a detached garage.