Call Us Today !
843-873-8030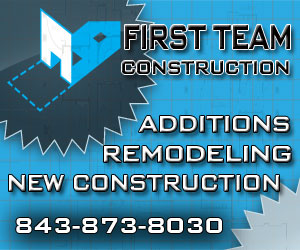 Electrical Services Charleston, SC
First Team provides professional electrical services to Charleston and the surrounding areas.
Receptacle not working
Meter base installed
Electrical services
Fans installed
Trouble shooting
Outdoor Receptacle
Lighting
Outdoor lighting
Landscape lighting
Breakers
Panel box
Replacement
Sub panel
Wiring
Wiring Hazards
Conduit
Light switch
Emergency shut off switches
Voltage testing
Smoke detector
Outlets
Switches
Ceiling fan installed
New electric work
3way and 4 way switches
Circuit breakers
Dimmers
Motion sensors
Light bulb replacement
Chandeliers
Doorbell
GFCI Receptacles
240-volt circuits
3-phase power
Junction box
Rewire services
Fan install
Drywall Repair and Drywall Installation Services in Charleston, Mt. Pleasant, Summerville and the surrounding areas.
Holes, dings, dents, etc, are patched and sanded smooth.
Nail or Screw Pops are removed if necessary, replaced with new screws 1 inch above or below the area, and repaired accordingly.
Stress cracks or bad drywall corners are fiberglass or paper taped first, then repaired accordingly.
Water damage and stains on drywall are primed with a stain blocking primer.
Textured walls or ceilings are repaired and re-textured to closely match the original texture.
Poor repair or texture work that exists from a previous painter or contractor can be repaired to almost look new again.
Dust Free Sanding
New home Drywall Installation
Installation in Room Additions
Ceiling Texture