Call Us Today !
843-873-8030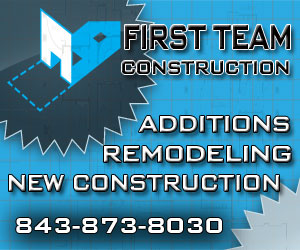 Replacement Windows Charleston, SC
First Team offers professional replacement window services in Charleston, Summerville, Mt. Pleasant and the surrounding areas.
Windows 101
Window shopping is easy when you know what to look for. You'll find many styles, shapes, features and glass packages when looking for windows and doors. But deciding on the perfect choice for your home and family is simple. Just take your time and assess your needs. Consider which style will best suit your home and your family, what thermal performance features will be ideal for your climate, and which glass options will be most appropriate. After you've figured out the basics, have fun with glass and grid options and unique hardware choices.
Styles and Shapes
Double Hung
Both sash on Double Hung windows open fully.
Single Hung
Top sash remains fixed, while bottom sash opens.
Double Slider
Both sash open and close by gliding from side to side.
Single Slider one sash opens and closes by gliding from side to side, while the other remains fixed.
Casement
Sash are hinged on the side and crank open a full 90 degrees* for maximum ventilation.
Awning
Sash are hinged on top and crank out and upward.
Picture
Picture windows are fixed and do not open or close.
Geometrics
Geometrics are fixed windows available in stylish shapes.
Bay
Bay windows are created by mulling three windows at either 30- or 45-degree angles.
Bow
More rounded in appearance than a Bay, Bow windows feature windows mulled at 10-degree angles
Garden Window
Garden windows feature functional Casement sidelites and create a sunlit area to showcase plants or collectibles.
Patio Door
Patio Doors feature broad expanses of glass and slide open easily.
Garden Door
Garden Doors swing open and can be ordered to swing in or out.
Choosing Vinyl
When it comes to windows and doors, vinyl is an all-around excellent choice. Unlike wood, vinyl windows and doors will never rot or require endless repainting. And unlike aluminum, vinyl windows and doors will never pit or flake. Simonton vinyl windows and doors are made from the highest quality vinyl and require almost no maintenance. In fact, an occasional washing will keep them looking like new for years. Plus, they offer increased comfort and lower utility bills, provide headache-free operation and add value to your home. You can't get much better than that.
Increased Comfort Simonton's vinyl windows and doors offer excellent thermal performance for year-round comfort and to help lower utility bills.
Easy Operation Our windows and doors open and close easily for maximum performance with minimum effort.
Weatherability – The premium vinyl used in Simonton windows and doors can stand up to extreme weather conditions year after year.
Energy Efficiency Vinyl is an effective insulator. Our vinyl profiles are specially designed to work with advanced glass packages for optimum energy efficiency.
Low Maintenance The color of the vinyl is integrated throughout, so frames and sash will never require painting, and they resist pollution, salt spray and dirt.
Value Not only do vinyl windows and doors help to lower home utility bills, they also add value to your home.
Types of windows we can offer to our clients
2-lite Slider
3-lite Slider
Awning
Bay
Bow
Casement
Colonial Casement
Double Hung
Fixed Unit
Frame Patio Door
Garden Door
Garden Window
Geometric
Hopper
Narrow
Patio Door
Picture
Sidelite
Single Hung
Single Slider
Transform
Colors and Grids
We've combined a variety of color choices and grids in an assortment of styles and patterns so you can find what you need to coordinate with the architecture and decor of your home. Available on select lines, Decorum™ by Simonton is a portfolio of unique interior options that allows you to create a look that is distinctively yours.
Interior laminates provide the rich warmth of wood grain in Antique Cherry, Maple or Contemporary Oak, or the crisp, clean simplicity of Pure White.
Not all colors and patterns are available on all lines, please check for availability. Due to the limitations of the Internet and computer monitors, actual colors may vary. Please consult our sales representative to see a sample of the product before making your final selection.
Colors and Interior Laminates
White Tan Driftwood
Maple (interior only,white exterior)
Antique Cherry (interior only,white exterior)
Contemporary Oak (interior only,white exterior)
Amber Oak* (interior only,white exterior)
Honey Oak* (interior only,white exterior)
*Available on select products only
Grid Options
Flat White
Flat Tan
Flat Driftwood
Sculptured White
Sculptured Tan
Sculptured Driftwood
Sculptured Maple
Sculptured Antique Cherry
Sculptured Contemporary Oak
Sculptured Polished Brass
Sculptured Honey Oak*
Sculptured Amber Oak*
*Available on select products only
Colonial Cross Diamond
Perimeter Prairie Victorian 
Add a generous helping of charm
Bow windows are ideal in the kitchen or dining room. Add a banquette — or built-in bench — in the shape of the bow to create a cozy eating area and more storage.
Maximize your view

Wherever you add new windows, consider designing them with grilles only on the top half. This way, you can still get the divided-light look you want, without blocking your view.
Follow the sun

For maximum daylight all day, add windows — or a pair of French doors — on the north side of the room.
Don't be afraid of windows on the south side of a home. Today's Low-E (low-emissivity) glass coatings reflect the sun's heating rays away from your house.
Create a focal point
Special Shape windows are an easy way to add architectural interest to your room and highlight other features of your home.
Finish your basement
If you're considering a basement renovation, you'll need to add an egress window to create an easily accessible exit in case of fire. Egress windows are not only important for safety, they add extra light to your normally dark basement space — making it more pleasant and comfortable.An egress window is larger than a common basement window.