Call Us Today !
843-873-8030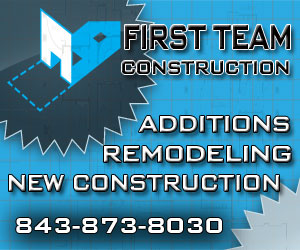 Siding Contractors Charleston, SC
First Team offers professional siding services to Charleston, Summerville, Mt. Pleasant and the surrounding areas.
Brick and Brick Veneer Siding
Made of fired clay, brick comes in a wide variety of earthy, eye-pleasing colors. Although it is expensive, brick is desirable because it can last centuries and probably won't need any patching or repairs for the first twenty-five years. Quality brick veneers are also attractive and durable, although they don't have the longevity of solid brick.
Stone and Cultured Stone Siding
If you think of ancient monuments and temples, you know that stone is the most durable of all building materials. Granite, limestone, slate, and other types of stone are beautiful and nearly impervious to the weather. Unfortunately, they are also extremely expensive. Precast stone veneers and facings look and feel like real stone, but the prices are more affordable. Cultured Stone® from Owens Corning is one popular brand of precast stone veneers.
Cedar Shingle Siding Contractors
Homes sided in cedar shingles (also called "shakes") blend beautifully with wooded landscapes. Made of natural cedar, the shingles are usually stained browns, grays, or other earthen colors. Shakes offer the natural look of real wood, but usually require less maintenance than wood clapboard. By using stain rather than paint, you can minimize peeling.
Cement Fiber Siding Contractors
Fiber cement siding can have the appearance of wood, stucco, or masonry. This durable, natural-looking material is often called by the brand names HardiPlank® and HardiPanel®. If you want the look of authentic wood with a bit less maintenance, cement fiber is a good options. Fiber cement siding is fireproof, termite-proof, and may have a warranty up to fifty years.
Vinyl Siding Contractors
Vinyl is made from a PVC (polyvinyl chloride) plastic. Unlike wood or cedar, it won't rot or flake. Vinyl is usually less expensive to purchase and install than most other siding materials. There are, however, drawbacks. Vinyl can crack, fade, or grow dingy over time. Vinyl is also controversial because of environmental concerns.
Stucco Siding Contractors
Traditional stucco is cement combined with water and inert materials such as sand and lime. Stucco has been used since the days of Renaissance Italy, and it can be finished in many ways for many different looks. Walls made of genuine stucco are hard, solid, and moisture resistant. Many homes built after the 1950s use a variety of synthetic materials that resemble stucco. Synthetic stucco will look authentic, but may not offer the same durability.
Engineered Wood Siding Contractors
Engineered wood, or composite wood, is made with wood products and other materials. Oriented strand board (OSB), hardboard, and veneered plywood are examples of engineered wood products. Engineered wood usually comes in panels that are easy and inexpensive to install. The panels may be molded to create the look of traditional clapboards. Because the textured grain is uniform, engineered wood does not look exactly like real wood. Still, the appearance is more natural than vinyl or aluminum.
Wood Clapboard Siding Contractors
Modern science has given us many synthetic wood-look products, and yet solid wood (usually cedar, pine, spruce, redwood, cypress, or Douglas fir) remain favorite choices for finer homes. With periodic care, wood siding will outlast vinyl and other pretenders. As with cedar shingle siding, wood clapboards can be stained rather than painted. Many wood frame houses built centuries ago still look beautiful today.