Call Us Today !
843-873-8030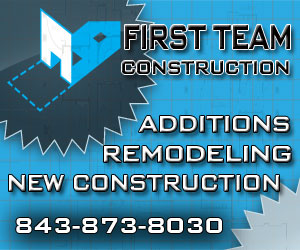 General Contractor & Handyman Services Charleston, SC
Since 1994, First Team Mission has always been to provide our clients with quality services. This high standard has helped us to see most of our clients return to use our services again and again.
We do the level of work that will have our clients calling us again and again for their next projects.
We service the tri-county area here in Charleston, Dorchester and Berkeley counties and we also travel throughout the state of South Carolina, all the way up to North Carolina and as far down as Georgia.
We have been blessed to be involved in thousands of projects and exceed our client's expectations with regards to quality of work, professionalism and staying on budget. In this line of work, some companies open their doors and disappear within a year or two. We have made a statement of commitment to our clients and our experience shows it. From the first call to our office, you will be treated with respect and courtesy. We are all local technicians who live and work in the same area as you, so we are always mindful of our reputation.
Charleston Contractor Services
General Contractor
Home Builder
Green Builders
Garage Builder
Construction Consulting
Concrete
Deck Builder
Yard Drainage
Handyman
Home Repairs
Cabinets
Carpenter
Brick Mason
Countertops
Crawlspace
Door Installation
Drywall Repair
Home Remodeling
Electrician
Fence Builder
Foundation Repairs
House Framing
Paint Contractor
REO Repairs
Replacement Windows
Siding Contractor
Stair Builder
Bathroom Remodeling
Kitchen Remodeling
Fire Remediation
Room Additions
Water Restoration
Demolition
Asbestos Removal
Mold Removal