Call Us Today !
843-873-8030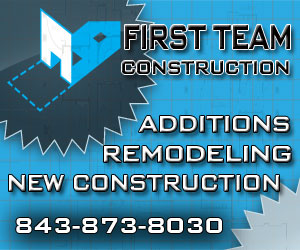 Home Additions
WHAT WE OFFER
Residential Construction
Commercial Construction
Home Additions
Charleston Additions, a First Team Construction company, is a fully licensed and insured general contractor and is one of the Lowcountry's most trusted and professional construction companies.
We provide residential and commercial construction to Charleston, Summerville, Mt. Pleasant and the surround areas of the Lowcountry. Our Charleston construction company staff can build everything from decks, to new homes, to fences, to pool decks, to detached garages and much, much more.
WHAT WE OFFER
Construction Management
Project Planning
Property Loss Inspections
Charleston Additions has the real world construction experience and knowledge base to provide a cost effective plan to home owners, building owners, contractors, engineers, and architects for any construction project.
We offer free construction consulting to all of our clients in the Charleston area and beyond.
We develop a comprehensive construction plan based on each of our clients' needs and project requirements.
WHAT WE OFFER
Interior Design & Repairs
Exterior Design & Repairs
WHAT WE OFFER
Two-Story Additions
Deck Additions
Home Office Additions
Thinking of buying a new home? Don't. Why buy a new home when you can simply add on to your existing home? 
Home additions
are a perfect way to add extra space to your home without having to go through trouble of actually buying a new home, not to mention cheaper. In fact, studies show that you will be able to recover most, if not all, the costs of a home addition if you ever go to sell your home.
WHAT WE OFFER
Total Home Renovations
Historic Renovations
Basement Refinishing
Charleston, South Carolina is home to some of the oldest and most beautiful southern homes in the world. If you are looking for a contractor to help you 
renovate your Charleston home
,
it's important to consider hiring someone who knows the history and understands the importance and value these beautiful homes bring to Charleston and the entire Lowcountry area.
GET YOUR FREE CONSULTATION
JOIN OUR GROWING LIST OF SATISFIED CUSTOMERS! GET A FREE BASIC DESIGN & QUOTE TODAY!
Have an idea, a dream? We can make it happen. Join our family, we offer free consultations to help you achieve your goals. We deliver with the creativity and quality that you deserve.
Flexible Payment Options