Call Us Today !
843-873-8030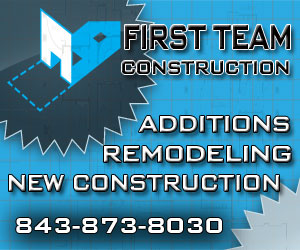 Home Remodeling Charleston, SC
First Team Construction, Inc. can help you figure out what the best remodeling route would be for your home, we will set up an appointment and come out to discuss your ideas. We will then take your ideas back to our office and put together the best plan of attack for your individual project. We're Charleston's first choice for home remodeling, kitchen remodeling, bathroom remodeling and more.
Things to consider for your next home remodeling project:
Type and Cost of Renovation
Perhaps you are looking at a simple remodeling project such as sprucing up your living area. This can be accomplished with a new paint job or a new floor. These types of "home improvement" projects do not necessarily impact your home value assessment and generally result into a neutral ROI.
On the other hand, making a room addition by knocking out a wall and expanding the physical structure of your home can impact your home value assessment. These type remodeling projects can be very expensive. Depending on your area and type of renovation, your remodeling product could result into a positive or negative ROI.
Getting a positive ROI on your home renovation project depends on the following items:
Your neighborhood.
Value assessment of surrounding homes
The positive growth of the community
The personal tastes of the area.

Market Valuation

How are the market values of homes in your particular area holding up?
If home prices are increasing, a renovation project may add a percentage value to your existing home value.
If the market values in your particular area are decreasing, a renovation project may fail to add any new value to your home.


Home Comparison

What will your home renovation do the overall look of your home as compared to similar homes in your neighborhood.
You might find that your type home renovation doesn't fit your neighborhood look, which can in some cases decrease the overall value of your renovation.


Check Your Neighborhood

Double check your surrounding neighborhoods prior to starting any home renovation.
Potential threats such as a new highway construction or other "non-neighborhood" construction may impact your area's future home values.
Also investigate any potential zoning changes that may be on the docket.
What was once a quiet neighborhood can easily be transformed into a noisy shopping center with increased traffic.


Make Sure Your Boundaries are Secured

Review your neighborhoods existing boundaries.
Are they secured? An open field could potentially mean future development that could be positive or negative.
What is the boundary between commercial property and residential property? Are the commercial zones inching closer to your neighborhood? Are there secured boundaries that will halt commercial encroachment.
What about the roads you live on. Are they the main thoroughfares for your neighborhood. What was once a quiet road can easily become a heavy, traffic road by increased development.


Check the Schools

Regardless of whether or not you have children, check the quality of schools in the community.
Any positive remodeling ROI will depend on the quality of schools in your area, particularly elementary schools.
Investigate the average class size, the facilities, and the method of transportation. Evaluate the overall quality of the public school system.


Home Renovation Cost

Knowing your home value will help determine the percentage of home renovation cost that should be applied to your home.

Home remodeling percentages around 20-30% are acceptable ranges for most neighborhoods. Again, this will vary by region and by type of renovation. For example, if your current home value is estimated at $200,000 and your home remodeling cost is $40,000, your remodeling percentage is approximately 20% of your home value and is acceptable for most neighborhoods. Renovation projects above 30% of your home value are not generally acceptable for most neighborhoods. The cost would be better spent on the purchase of a new home. Of course, this can vary by type renovation and location.

Calculating the Costs of Remodeling requires pricing the following items:

Construction Materials
Construction Labor
Permit Fees
Decorative Enhancements
Repairs Due to remodeling
Cleanup

We will provide these costs when we review your project in detail.

High Cost-Value Ratio

Studies show that nearly all of the cost of a mid-range two-story addition may be recovered at time of sale, and it's less expensive than purchasing a new house.

While this might seem like a "no-brainer," it needs to be mentioned. It is typically cheaper to build an addition than to buy a new home that equals the space of your existing house plus addition. At the very least, the closing costs involved with selling your old house and buying the new house would push this option over the top.

Additions are 100% Your Creation

You may have an old house, but the addition is space that you can claim as your own. It's like designing a whole new house without the expense of a whole new house. Fire up your design software and go for it!

Smartest Way to Add Space to House

Have you ever thought of having more living space, home additions can be a terrific investment and provide great living and or outdoor space. However, before considering to invest in  a home addition, there are a number of important items that should be considered prior to construction.  Some of these items may include: local home market values, home addition costs, Engineering and or architectural plans, financing options,your timetable to have your project completed, City, County or State building Codes and your personal disruption threshold.

First team Construction, Inc. will always go the extra mile to make sure you have the most pleasant experience throughout your project.