Call Us Today !
843-873-8030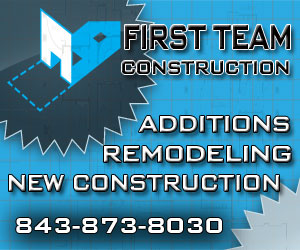 NicoleM9504
Yellow Pages Customer Review
I recently used First Team Construction for the addition of a sun room to my home..Not only were the employees very knowledgeable and thorough with answering all of my questions but they were also very friendly and respectful. I never felt inconvenienced while having the addition built. I will definitely refer them to anyone who has remodeling needs. They did an awesome job!!
Mlitgo
Yellow Pages Customer Review
I can't thank First Team Construction enough! I had damages to my master bedroom and bath after a recent storm so I gave them a call after hearing through the grapevine about their great reputation. I was surprised how quickly they arrived, at their fairness and attention to detail. In the past, I had used other construction companies in the area that were less than pleasant to deal with and a complete rip-off!! Above all, I LOVE the finished product (which include a few little added details that I decided to go with after they suggested them!!)!!! I won't hesitate to use them again for future projects and would advise anyone seeking home remodeling or construction work to contact them first!!! GREAT JOB, GUYS!!!
Angel Arsa
Yellow Pages Customer Review
Need Remodeling Work? Then this is your company to hire. I recently decided to have my kitchen remodeled. I wanted it updated with new cabinets, floors, counter tops, along with an arch way seperating my kitchen with the living area, instead of my plain old wall. A friend of mine referred First Team Construction. I called them along with several other remodeling companies. I was impressed from the very beginning. They were the only one out of 4 others that was on time for my estimate. Their exceptional service was prompt and curteous. The team respected my home, along with informed me of all the procedures and price upfront. My questions were answered throughly and they completed everything that was promised; when they promised it. I had no unanswered questions going into the project and they completly went beyond the call of duty to provide me with a WONDERFUL, BEAUTIFUL, and modern (what seems like brand new) kitchen. I highly recommend First Team Construction for any project you may have!!!
Dianne R.
Yellow Pages Customer Review
Remodeled and expanded our office space. Great job and great people! David was very easy to work with and always quick to respond to any of our concerns. At times we were overwhelmed with having construction going on at the same time we were conducting business in the office. David remained calm and reassuring, always accommodating our work schedule–even when it was inconvenient for him to do so. He often went way beyond the call of duty. We would highly recommend him and his company to anyone looking for an honest, competent and trustworthy contractor.
Ruth H
Yellow Pages Customer Review
It is difficult to find someone who accepts small jobs, such as mine was. I was impressed with the service and would not hesitate to recommend them. They even granted a 10% discount to seniors.
Gary & Carol P
Yellow Pages Customer Review
I contacted this company to inquire into getting a screened in carport.  They were very professional, prompt and detailed. Very good overall experience. Will use when we are finished with our other home revisions.
Gary H
Angie's List
After trying craigs list trying to save a dollar i was about to give up. I emailed first team construction and had an appointment for friday. David showed up on time and was very professional. He saw the water damage and agreed to start saturday. The crew worked sat. mon. and finished today ahead of schedule. The 35 year old bathroom looks incredible. The best part was his guys found a old copper pipe that was leaking in the wall and had mold growing all behind the wall. The killed and cleaned up the mold. The damp musty smell is gone. What a fantastic professional group of guys. Will be using them again real soon.
Lee H
Angie's List
First Team was responsive to our questions and requests.  All of the work was of good or better quality and they were very responsive to any requests for detail attention. I have already contacted them for further work.
Robert K
Yellow Pages Customer Review
They showed up on time and there were no glitches in their process. They kept me informed of their progress at each step and the work was finished in a timely manner.
Angela D
Angie's List
Well I searched and "interviewed" about 5 contractors had each one come out and give me a estimate. The one contractor that I considered went above and beyond sat down with me went through everything and was very professional was First Team Construction. Mr. Johnson was so up to date and professional that I chose them. The best decision I ever made! Mr. Johnson advised me the job would take approximately 12 weeks, they were completed in just 9 weeks!!!!! I chose Merillat cabinets for my kitchen stainless steel appliances and solid surface counter tops. Mr. Johnson kept us informed every step of the way. At one point during our project, and at the very last minute( as in 30 minutes prior to starting ) I requested a change in color in the kitchen, Mr. Johnson said no problem and picked the color up we chose. First Team Constructions whole staff are wonderful, professional, eager to help and all go above and beyond to make sure there customer is happy. Mr. Johnson would call through out the duration and ask if we were pleased and if there is anything he or his staff could do, and if we did have a problem he would correct it. The project turned out great, my neighbors hired First Team Construction to remodel there kitchen. I would recommend them to everyone.