Call Us Today !
843-873-8030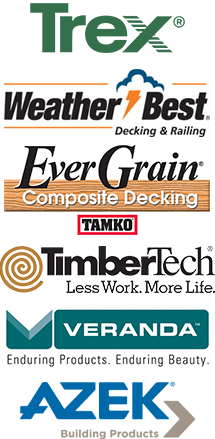 Custom Deck Builders in Charleston, SC
Thinking of adding a deck, porch, patio or fence to your Charleston home? Charleston Deck Builder can help get you started. Our professional contractors offers a wide range of deck and outdoor building services to the Charleston, Summerville, & Mt. Pleasant areas.
Our contractors use the best materials to customize your deck to your specifications. We work with you to create your ideal design so that the deck we build: 1) works with your home 2) is designed for your intended uses and 3). is what you are looking for.
We take great pride in our work and we make sure every single detail, from the selection of material to the deck construction itself, is built with master craftsmanship so that you can enjoy your deck for many, many years to come.
Decking Materials
If you are looking for deck building materials when you are building your new deck, quality assurance is a must. We hand pick the highest quality wood to ensure that your deck will not only be functional and enjoyable, but will also endure the test of time (and mother nature).
Professional deck construction often requires contractors to have a deep understanding of various aspects of general contracting. Those aspects include: electrical work, building codes, deck staining and more.  Professional deck builders must also have an intricate knowledge not only of traditional wood and materials used on the building of a wood deck, but also of the the latest in building materials, such as composite wood which is made of recycled plastics.
If you are trying to accomplish a custom look or even reduce maintenance upkeep for the future, there are many different types of composite deck solutions to suit your needs. Those composites include: Trex Composite Decking, Azek Building Products, EverGrain Composite Decking, LP Building Products, Weatherbest, Veranda Building Products, TimberTech Composite Decking, and more.
We have a wide range of experience in the aforementioned composites, and many years of experience in hardwood and traditional pine decks. Our pressure-treated wood decks and custom deck packages are designed around our customers' requirements, needs an inspirational dreams. Each deck construction design we create is hand drawn–detailing the unique qualities that make the end product as functional as it is beautiful.
To give you a little insight on our process, our deck contractors pick materials that will hold off mother nature and her damaging elements to the life of your deck. Give us a call today to talk to a professional, fully-licensed and insured deck contractor so that we will be able to help you determine the type of wood necessary for your next project!
Competitive Pricing
We offer competitive pricing to ensure you're getting the most for your money. Of course, the type and amount of wood used and materials used will set the tone for the price for your deck. But, materials and wood aside, our deck installation team will do everything they can to give you outstanding service and quality and work with your budget – no matter how much you are looking to spend.
Before we being the building process, we will discuss with you a deck design that you will not only love, but also find fully-functional for your enjoyment and for entertainment.
Our Process
One of our professional builders will come to your home and an in-home consultation to talk about how we can help you enhance your outdoor living space. During this consultation, we will review the material that will be used and discuss any budget constraints.
The designer will create an initial design and provide you with a detailed proposal.
Once you have approved and finalized the design, we begin acquiring permits to build your deck. Once the permits are issued, we schedule a start date that works best for you.
The deck construction begins, your deck is 100% built to your specifications and you are informed on the construction process every step of the way by someone from our staff.
You begin enjoying your new deck!
Clean & Seal Deck Maintenance
We offer professional deck staining, deck cleaning and pressure washing services to help preserve and extend the life of your deck through cleaning and then sealing the wood with our protective sealant. Preserve the life of your deck's wood with our clean and seal deck maintenance services.
We are standing by 24×7 to answer your questions. Give us a call today at (843) 873-8030 or send us an email to get started!