Call Us Today !
843-873-8030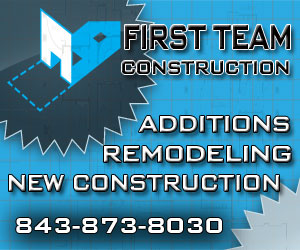 New Home Construction Charleston, SC
First Team Construction can help you figure out what the best route is to for your new home construction in Charleston, SC. We will set up an appointment and come out to discuss your ideas, we then take your ideas back to our office and put together the best plan of attack for your individual project. From single family homes to low-maintenance town homes, each new home construction project is built with a commitment to quality and a disciplined approach to construction.
We build beautiful homes in Charleston, Summerville, Mt. Pleasant and the surrounding areas.
Using innovative designs and green home building materials, First Team Construction, Inc. has emerged as a leader in energy efficient building.
Not only will you get the home you want, but you'll also save lots of money in the building process. That's because building a new home offers countless advantages for consumers when it comes to saving money.
Site preparation

Home layout and design

Square footage you and your family may require to be comfortable.

Selecting the correct finishes for your home

Green home building methods and techniques
The decision to design and build your own home or office is a very exciting opportunity. Maybe you can see every detail in your mind or perhaps you have so many ideas that you need help planning them. Whether you are building a vacation, retirement or water front home, First Team Construction can help get you started. First team prides itself in quality workmanship, fine finish carpentry and desirable locations and are eager to assist you in any way we can.