Call Us Today !
843-873-8030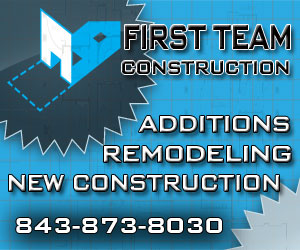 Drywall Repair Charleston, SC
From patching or repairing the smallest nail hole in your drywall, to replacing whole sections, to hanging and finishing a whole house or building or re-texturing ceilings, we have the experience to meet your drywall needs.
The First Team Construction, Inc.'s repair process ensures adequate filling and assists us in having nicely sanded and feathered edges on our drywall repairs compared to having ridges, humps and uneven repair work.
First Team construction, Inc. hangs temporary plastic walls in areas of the house this will assure that the repair work is isolated to a particular room or area which helps keep sanding dust to a minimum.
In addition, we have vacuum assisted sanding machines and can do wet sponge sanding in some instances to eliminate a majority of the dust caused by sanding.
Drywall Repair and Drywall Installation Services in Charleston, Mt. Pleasant, Summerville and the surrounding areas.
Holes, dings, dents, etc, are patched and sanded smooth.
Nail or Screw Pops are removed if necessary, replaced with new screws 1 inch above or below the area, and repaired accordingly.
Stress cracks or bad drywall corners are fiberglass or paper taped first, then repaired accordingly.
Water damage and stains on drywall are primed with a stain blocking primer.
Textured walls or ceilings are repaired and re-textured to closely match the original texture.
Poor repair or texture work that exists from a previous painter or contractor can be repaired to almost look new again.
Dust Free Sanding
New home Drywall Installation
Installation in Room Additions
Ceiling Texture