Call Us Today !
843-873-8030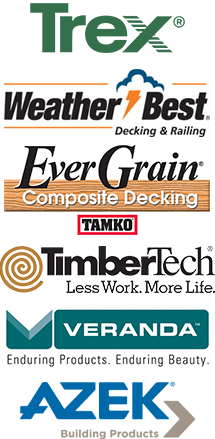 Charleston Fence Builder
Since 1994, Charleston Deck Builder has been Charleston's first choice for building beautiful fences, gates and entryways for residential, commercial, and industrial markets in the Lowcountry area of South Carolina.
We are a fully-licensed, bonded and insured South Carolina general contracting company that provides high quality fence installation, fence construction and fence building in Charleston, Summerville, Mt. Pleasant and the surrounding areas. Our experts can help you choose the right fence to fit your budget and conform to the landscape of your property.
Custom Fence Installation
We also offer custom fence installation services to the Charleston area. If you are considering enclosing your yard to maintain your privacy, we are here to help. Our fences are made to withstand the test of time. We will come to you to discuss installing your fence and our fence contractors can pick out and purchase the material for you. Or, if you'd like, you can customize your dream fence yourself and we'll install it for you.
If you're considering building a fence, get in touch with us today! We are here 24×7 to answer any questions you may have. Give us a call at (843) 873-8030 or send us an email to get started.
Fences We Build & Install
Vinyl Fences
Privacy Fences
Aluminum Fences
Wood Fences
and more…
Areas We Service
Charleston
Summerville
Mt. Pleasant
Moncks Corner
and beyond…
Clean & Seal Maintenance
We offer professional fence staining, fence cleaning and pressure washing services to help preserve and extend the life of your wood fence through cleaning and then sealing the wood with our clear, protective sealant. Preserve the life of your wood with our clean and seal fence maintenance services.
Our fence maintenance company is standing by 24×7 to answer your questions. Give us a call today at (843) 873-8030 or send us an email to get started!
Our Process
One of our consultants will come to your home and an in-home consultation to talk about how we can help you enhance your home or office. During this consultation, we will review the material that will be used and discuss any budget constraints.
The consultant will create an initial design and provide you with a detailed proposal.
Once you have approved and finalized the design, we begin acquiring permits (if needed) and marking off area before we get started. Once the permits are issued (if necessary), we schedule a start date that works best for you.
The fence construction begins, is 100% built to your specifications, and you are kept up to date on the construction process every step of the way.
You begin enjoying your new residential or commercial fence!